The YWAM DTS stands for Discipleship Training School.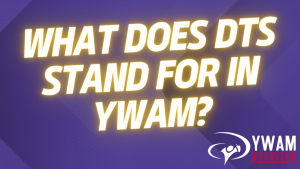 What is a YWAM DTS?
The Infinito DTS at YWAM Asuncion is a 5 month training that blends classroom learning, small group activities, personal reflection, practical service, and community living.
The training comes in two parts: lecture phase and outreach phase.
During the lecture phase you will get to Know God. Teachers from around the world will teach on the character and nature of God and you'll be trained on how to heal the sick, preach the Gospel of the Kingdom and Disciple Nations.
While on the outreach phase you will get the opportunity to go and Make God Known by implementing what you you learned during the lecture phase.
You can also read our other post on What is a YWAM DTS?
How long is a YWAM DTS?
A DiscipleTraining School with Youth With A Mission usually lasts around 5 or 6 months. Some might last as long as 9 months. The best way to find out how long a dts is for a specific location is to check the details on their website. One thing to pay attention to is the 2 parts of a DTS, lecture phase and outreach phase. Lecture is in class usually at the ywam base and outreach is where you go and put into practice what you learned during lecture phase. At YWAM Asuncion, the lecture phase is 3 months and outreach is 2 months. You cannot separate the 2. A DTS is the combination of both lecture and outreach together.
What is YWAM?
Youth With A Mission is a global movement of Christians from many cultures, age groups and Christian traditions, dedicated to serving Jesus throughout the world.
Also known as YWAM (pronounced "WHY-wham"), we unite in a common purpose to know God and to make Him known.
Back when we began in 1960, our main focus was to help youth get involved in missions.
Today, we still focus on youth and we also include people of all ages. We currently have tens of thousands of staff (called "YWAMers") from nearly every country, including places like Indonesia, Nepal, Mozambique, and Paraguay.
What does YWAM do?
Youth With A Mission (YWAM) is an international movement of Christians from many denominations dedicated to presenting Jesus personally to this and future generations, to mobilizing as many as possible to help in this task, and to the training and equipping of believers for their part in fulfilling the Great Commission. As citizens of God's kingdom, we are called to love, worship, and obey our Lord, to love and serve His body, the Church, and to love all peoples everywhere, which includes presenting the whole Gospel for the whole person throughout the whole world.
How does YWAM work?
YWAM has 1200+ locations in 180 countries and each location has a different focus and purpose. One location might focus on reaching the unreached in Asia, another location might focus on reaching Urban Inner Cities. So depending on what you feel called to do with your life, will determine which ywam location you should be a part of.
To start in YWAM, everyone needs to first to a Discipleship Training School (DTS). Then the world is your oyster!